Name:
Mirage
aka:
Mira
First Appearance:
Ponycon Twitter
(July 22, 2016);
Ponycon: New Beginnings
(2016)
Species:
Draconequus
Age Range:
Adolescent
Height:
Unknown, taller than an average-sized equine (presumably interchangeable)
Weight:
Unknown (presumably interchangeable)
Residence:
Friendship Park, Manehattan, Equestria
Occupation:
Trickster, Artist, Designer, Storyteller, Ponycon Staff, Mascot
Affiliations:
Bowtie, Tiebreaker, Ponycon, various residents and national heroes of Equestria
Theme:
Bio:
Years ago, a peculiar egg was taken from an unknown location, and was transported among others to Celestia's School for Gifted Unicorns. As part of an entrance exam into the academy, the egg was hatched by a unicorn, bringing an infant draconequus into the world. This unexpected event shocked those in the room, and eventually the young Mirage was taken in by a facility that cataloged mysterious creatures in Equestria. She was presumably raised here, and unlike the other creatures being studied, was given more freedom to explore while under the watchful eye of a scientist. However, she was still prohibited from truly exploring the wonders of Equestrian society, such as attending school with others.
One day, after overhearing the scientists studying her, Mirage inadvertently discovered her magic powers, and utilized them to sneak away from the facility to finally engage herself in the world beyond. Upon arriving in Ponyville, however, she experienced an unfortunate meeting with a civilian who was shocked by her appearance, causing the innocent Mirage to realize the world isn't as lighthearted as she thought. Ever since, she grew up in a society where her very presence led to discrimination, forever changing her outlook on the world and causing her to develop a cold personality and a sense of duplicity towards any species she encountered. Mirage would continue to be insulted and taken advantage of... until the day she finally let loose and became an unrelenting force of chaos and trickery, as well as a bane to all those around her.
With her new personality, astute mind and ever-developing abilities, Mirage pursued a solitary life of reckless indulgence through trickery. She enjoyed every bit of it, until the day she met Bowtie: a pegasus formerly involved the then-dissolved, world-renowned Ponycon event. The two did not first meet under good circumstances, and soon Mirage dedicated her time to endowing Bowtie with as many series of unfortunate events as possible; though majority of the time, these proved ineffective at ruining Bowtie's daily life. After catching word of Bowtie and her new friend Tiebreaker reviving the Ponycon event, Mirage took it upon herself to "volunteer" for the event, with the intention of sabotaging it from within.
As time went on during development, Mirage actually grew fond of working alongside her partners in what became a judgement-free zone; however, this did not stop her intention of wanting to ruin Ponycon, as even Mirage still saw herself as a "monster" within. After assaulting the venue host with a prank and effectively evicting Ponycon from the premises, Mirage resumed her lonely, secluded life. However, through Tiebreaker's encouragement and words of inspiration, as well as learning of Bowtie's true passionate feelings for her, Mirage made up with her new friends, became the event's lead artist, and alongside her new family, helped put on an amazing weekend-long show for ponies, gryphons and everyone else to remember fondly.
Feats:
Befriended Bowtie & Tiebreaker, and overcame her fear against discrimination.

Successfully enacted revenge against her double-dealers.
Became incredibly proficient in art, design and storytelling.

Was promoted from volunteer to head artist, as well designer for venue maps and promotional material for Ponycon events.

Successfully held an exciting weekend-long event (and will likely hold many more) alongside her friends.

Mastered her magical & reality warping abilities on her own, and even held a panel at Ponycon discussing the "Physics of Chaos."

Has met and stood alongside the likes of Rainbow Dash, Applejack, Spike the Dragon, Dragon Lord Ember, Maud Pie, and Changeling Leader Thorax, among many others.
Real-Life Feats:
The comic she was featured in, Ponycon: New Beginnings, had sold out of copies at the real-life convention in a single weekend, and for a short time, in Ponycon's online store.
Her popularity among fans has earned herself a purchasable plushie in the same year as her debut, a first in Ponycon history.

First Draconequus mascot of any convention.

Physicality:
Has the physical strength to lift and ship six wooden crates filled with goods from Manehattan, all the way to Griffonstone.

Has enough strength and stamina to mine and collect a mountain-stock of gemstones.

Tirelessly traveled between different points across Equestria's world on her own throughout life.

Effortlessly ripped apart an A/V cable in an instant.

Personality & Intelligence:
An aspiring artist and storyteller at heart

An extremely clever trickster


Is clever enough to create highly-detailed plans, by herself or alongside others
Proficient prankster
Hosted a convention panel explaining the physics of chaos
Can be cunning, crafty and deceitful when necessary
Can convince and/or manipulate her way into favorable positions

Is able to keep a cool head for an unprecedented amount of time


Although eventually, continued frustration with those she encounters will lead to a breaking point
If she loses her temper, she has no problem utilizing the fullest extent of her powers against anyone

Is sensitive towards discrimination against her


Has been able to eradicate this issue
Abilities:
Magic


Telekinesis
Teleportation

Can make existing objects disappear or reappear instantly, even if out of reach

Forcefield Creation
Invisibility

Will (evidently) only appear visible to those she is destined to befriend (e.g. Bowtie)

Should be comparable to that of Discord

Reality Warping


Can create anything she pleases from thin air

Generated a massive brick wall in front of her in an instant

Should also be comparable to Discord
Hosted a panel about the physics of chaos at Ponycon, further solidifying her mastery of her powers

Technokinesis


GPS Manipulation

Converted Bowtie's cutie mark into a signal picked up by others' cellphones
Signal will perish under a wi-fi deadzone

Flight via her wings (and alternatively through levitation)

Prehensile Tail

Proficient Artist & Designer

Meticulous Planner


Has planned dozens of successful pranks and tricks on others in a short time frame
Assisted in the planning, direction and set-up of Ponycon 2017

Stealth Proficiency


Can sneak around unsuspecting foes even without the use of invisibility

Most likely has toon-force durability, as a resident of Equestria's universe
Possesses medium awareness


Most often shows up in promotional material through acknowledgement of audience
Is aware of other characters and universes outside of the My Little Pony universe
Narrated her own backstory
Weapons & Tools:
Pickaxe


Once used to mine gemstones for a diamond dog in exchange for payment

Flashlight Helmet


Used while mining gemstones
Can be used for cranium protection
Contains a flashlight

Magic Marker

A wide-variety of pens, pencils and art supplies

Can likely use her horns, fangs, claws and even the pointed edges of her tail-end as weapons

Theoretically anything given her reality warping abilities
Forms:
(Given her reality warping abilities and medium awareness, it's more than likely Mirage can feasibly become these forms at will.)
Scarlet Mirage form
Allows Mirage to wield the reality bending powers of Wanda Maximoff, the Scarlet Witch
Form is the winner of a fan poll conducted to determine what Mirage would wear to celebrate Halloween/Nightmare Nights

Won over other potential options Q (Star Trek), Bob Ross, Rick (Rick & Morty), Han Solo (Star Wars), Medusa (Greek Mythology) and Roulette (DC Comics)
Human form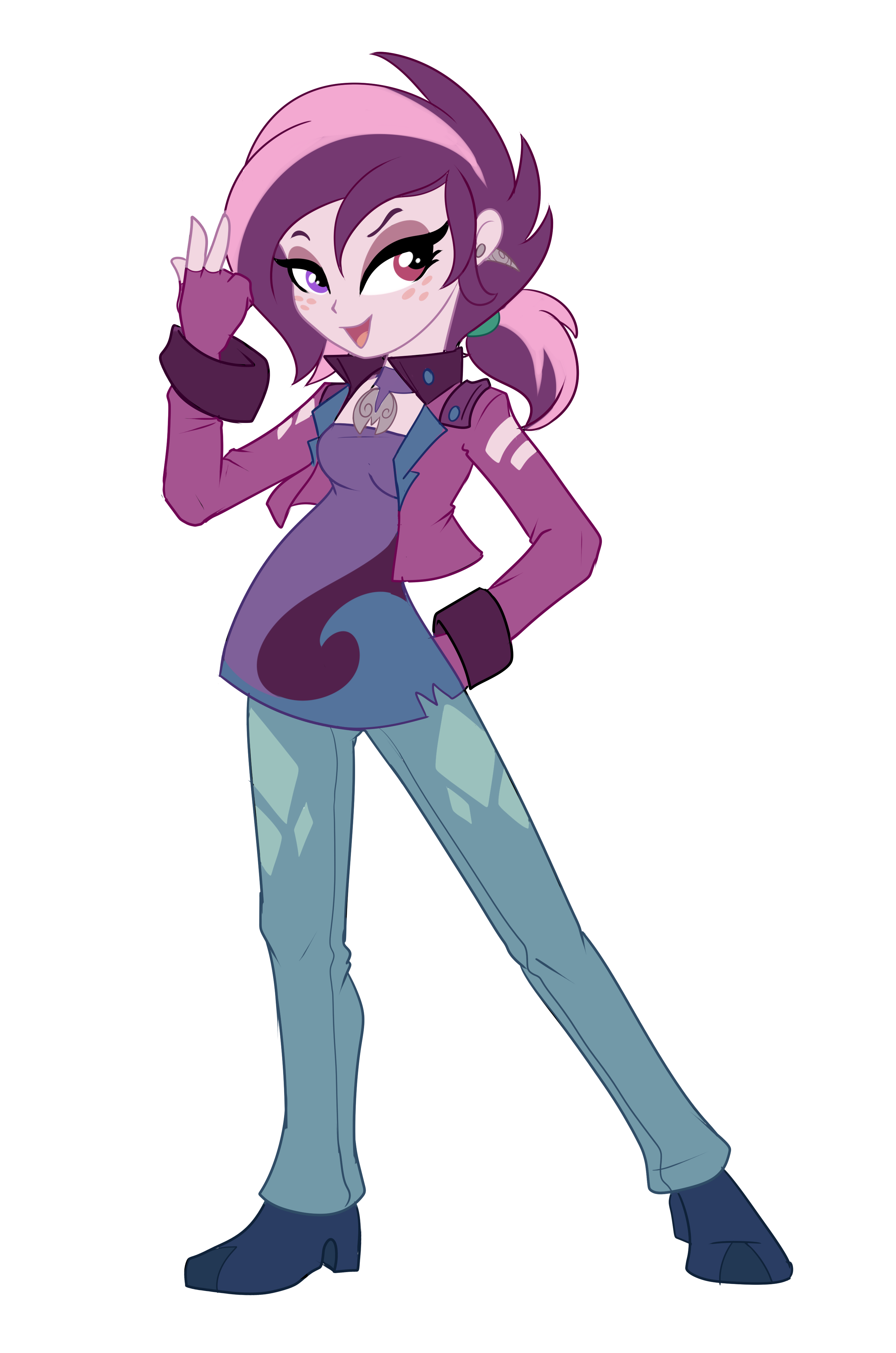 A full on human appearance of Mirage ala Equestria Girls
Most likely retains her abilities (where applicable) in this form
Could be used to effectively disguise herself as a cosplayer or blend in with a crowd
Miscellaneous Forms:
Demon Hunter form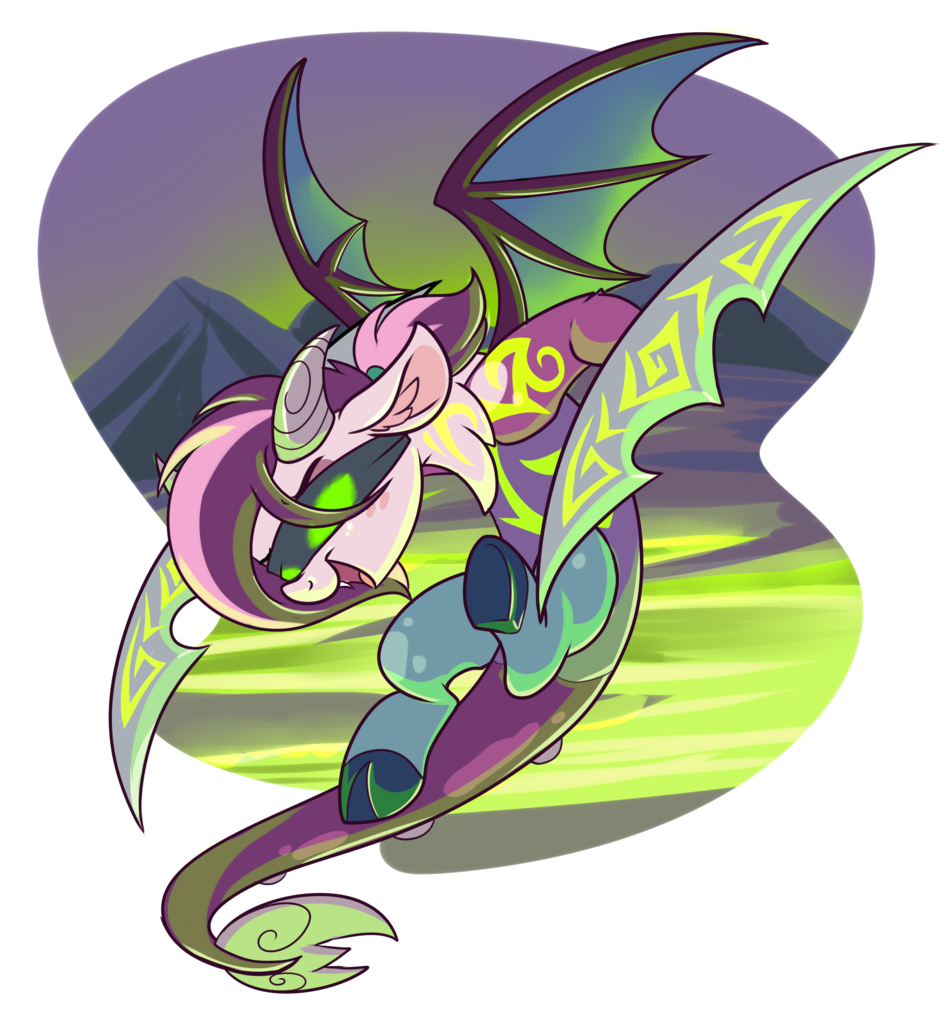 Takes the appearance of a demon hunter from World of Warcraft
Wields bladed weapons from said class
Worn in commemoration of World of Warcraft's Legion expansion
Pokémon Trainer form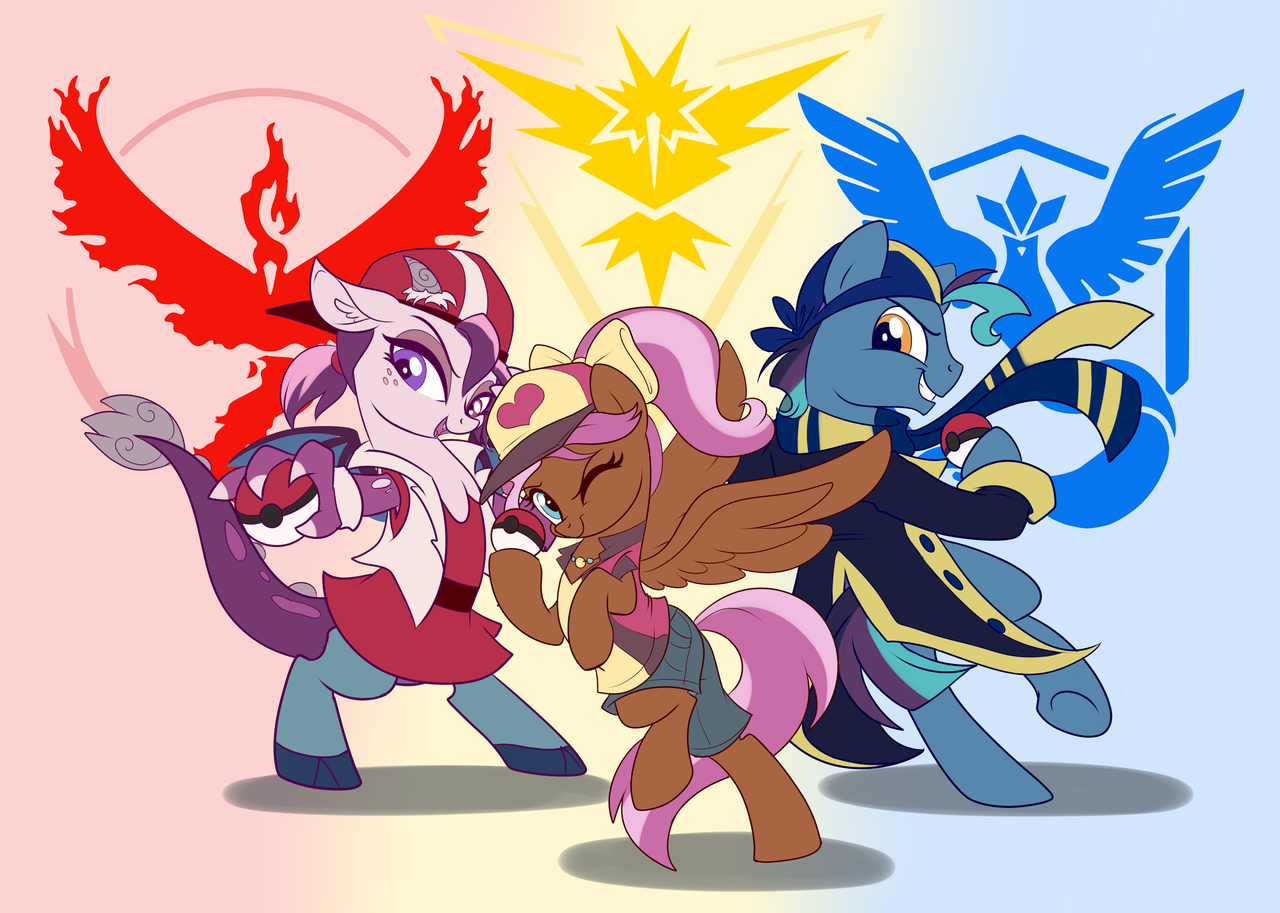 Wields a Pokéball (which may or may not contain an unknown Pokémon within) while taking the appearance of a trainer

Appearance likely means Mirage possesses extensive knowledge of the Pokémon universe/franchise

Is a member of Team Valor

Likely utilizes and relies on her partners' true strength in battle
Faults:
Is more of a trickster than a fighter


Little to no actual combat experience

Invisibility was ineffective against Bowtie, meaning the ability likely has no effect on those who are destined to hold a close, emotional connection to her
Can occasionally be overconfident and cocky

Is emotionally fragile when a plan fails or when insulted, most notably being referred to as a "monster"


Is not appeased when events do not go as planned, becoming somewhat confused or frustrated as to why her plans didn't work
Has since eradicated these issues
---
Mirage: "Look, you... weren't wrong, Bowtie. I did act like a... a monster. But- I don't want to be one. Not anymore. I thought no
one would ever want to be friends with me. So when you called me your friend- that was the best feeling in the world. You are
different from those other ponies, Bowtie. Even after everything I did to you... you still gave me a chance. I'm sorry for ruining
the convention. But if it's not too late... I want to prove that you can trust me."

Tiebreaker: "We don't get to choose who we look like, Mira. But we do get to choose who we are."